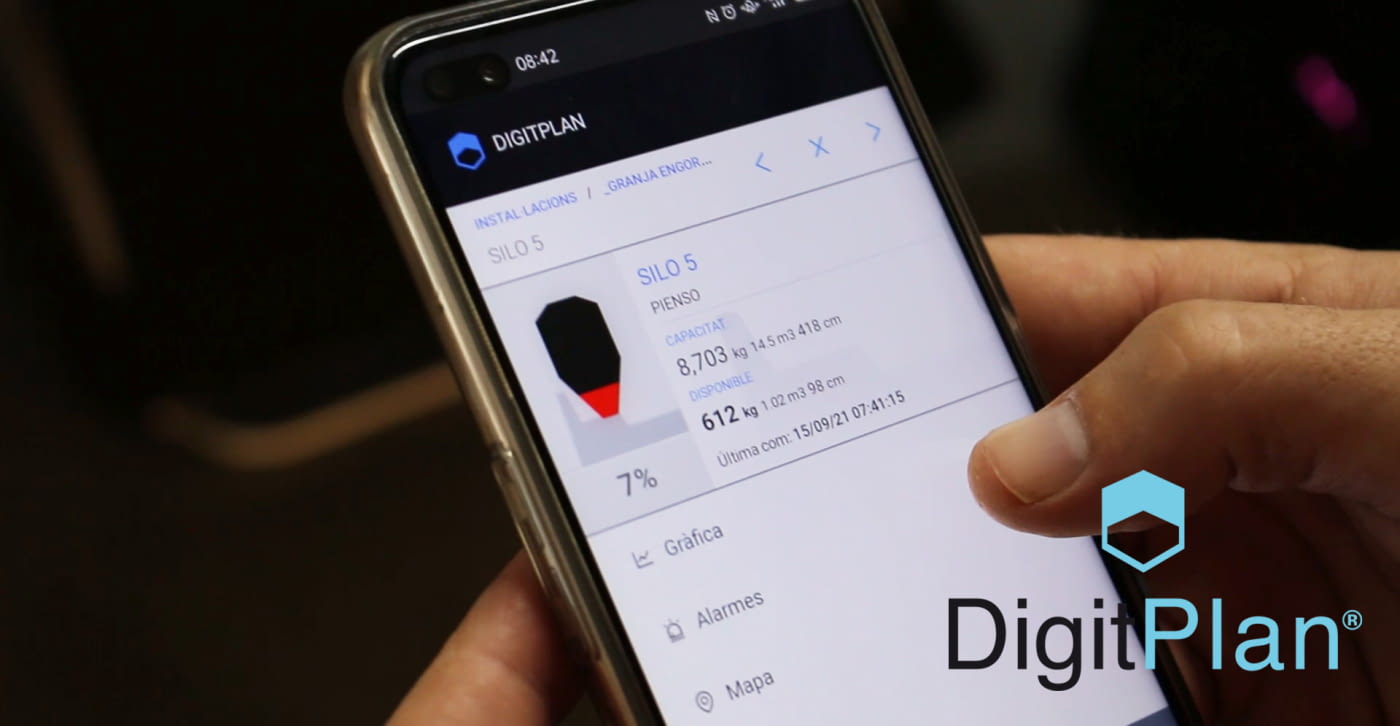 The problem that we face
The difficulty of knowing (or not) which type of feed we have at any given moment and how much we have in each silo can make the logistics of ordering, manufacturing and transporting difficult and generate a lot of problems. For instance, finding that one silo has been left empty without prior foresight and must be filled urgently to avoid significant and catastrophic economic loses.

This is one of the main premises that led to the creation of this software: being proactive and planning.

DigitPlan seeks to put an end to the anguish that comes from not knowing for sure how much feed is left in our silo, it also seeks to end leaving these cases unattended until the day we find ourselves facing negative repercussions because we did not consider the silo level management.
This software searches to be part of big enterprises that count with several agri-food sites that are difficult to control at the given moment due to the distance between each other, for instance.

But… How does DigitPlan work?
How does DigitPlan work?
DigitPlan is an online software based on a system to control silos in real-time, available for both mobile devices and computers, with whom you will be able to check the content of your silos that have either Silometric or Fluidmetric device installed.

Silometric is a level development sensor created by McSystems to the management and control of solid materials from silos and devices. It is based on an innovative product that, by using laser technology, it performs level measurements in storage systems so the user can know, in real-time and from any smart device, what is the stock status of their installations.

Fluidmetric is a solution to be able to measure recipients with liquid content such as reservoirs, water tanks, etc. It works through an ultrasound technology that allows us to know in real-time the capacity of our installation and to have a higher control and management over it.
From our app DigitPlan, you can access the readings done by Silometric and Fluidmetric, where you can find different varnishes and readings.
Why Digitplan?
DigitPlan offers various benefits, including:
Control Panel
Overview and real-time view of the levels of all devices in the system.
Details
Percentage of the material left in the deposit. Customized cubing according to tank size and type of stored material. Possibility to add other sensors of temperature, humidity, etc.
Geopositioning
Each device is geolocated which allows us to have a geographic view of the level of each device and be able to optimize the management of its replenishment.
Alarms
In each device it is possible to set an alarm threshold and send a warning (through SMS or email) when this happens.
Graphics
You can check the graphics and trends of the values read by each team:
Remaining volume (m3)

Remaining volume (litres or kg)

Distance from the sensor to the material

List of values
It includes a control system of silo content in real-time, a low cost and easy-to install and maintain system for monitoring silo contents in real-time to meet all the needs, making it possible to calculate replenishment periods and thus reduce the costs while optimising the manufacture and transport logistics.
With this and much more, DigitPlan is the solution to all of your problems related to the management of stocks that you might come across in your day-to-day life. Do not play yourself, trust in McSystems.