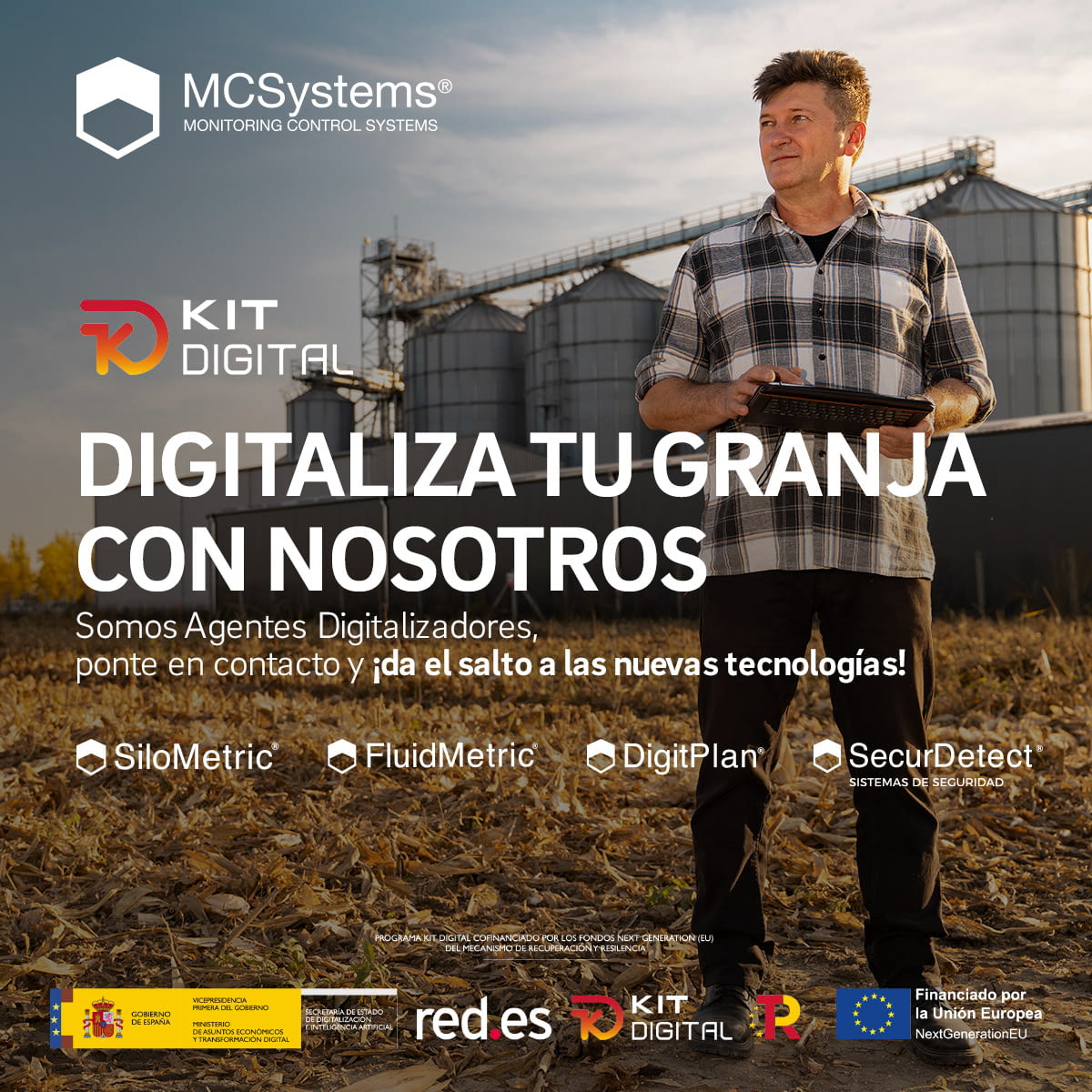 It's been a few months already that the words Digital Kit is everywhere. Everybody's wondering and asking who can have it, where you can get it, etc. So, to clear every doubt away, we explain to you how to get it and what we can offer you.
According to the Economic and Digital Transformation Ministry, the Digital Kit is an iniative from the Spanish Government that has funding the implementation of digital solutions available in the market as goal.
These subsidies can be accomplished through a Digitizer Agent, like us, that we Dichas subvenciones se pueden conseguir mediante un Agente Digitalizador, como nosotros, que prestamos ayuda a la PYMES con una solución fiable y económica para el control de stocks en explotaciones agropecuarias o cualquier depósito con stock, incluso los de combustible.
The bonus from European Next Generation funds to achieve digital transformation must be requested before December 2024 and is for a maximum of €12,000 with the following financing:
• Up to €12,000 aimed at companies between 10 and 49 workers (open call until September 15 or exhaust funds)
• Up to €6,000 for companies between 3 and 9 workers (the call will open in mid-July)
• Up to €2,000 for companies between 1 and 2 workers (the call comes out in September-October 2022)
Applying for a grant can be a tedious task, you have to know very well what documentation is requested, when to present it, meet the requirements, etc. It is for these reasons that it is better to go hand in hand with a company that can help you achieve it, such as MCSystems.
MCSystems, stock management
Our specialty is the design and manufacture of sensors to control and monitor stocks in silos and tanks, developing different types of sensors according to customer needs. However, our experience in different sectors has allowed us to develop a wide range of IoT solutions such as the following:
Agro-Industrial Sector
• Silometric level sensor for solids
• Fluidmetric level sensor for liquids
• Securdetect portable temperature sensor
Logistics Sector
• Buheat temperature control system for truck hubs
• Anti-theft alarm for Diesel tanks "Safety Fuel"
And finally, our Digitplan web platform, developed for data visualization, is a very powerful and intuitive tool to optimize and facilitate both the management of your farms and the control and traceability of your assets.
Our solutions are required by farmers for their feed management, manufacturing companies that want to improve inventory control of their raw materials, open warehouses for grain and cereals where temperature rise can be a serious problem, and transport operators with a preventive control against the possible increase in temperature of your hubs and axles of your vehicles.
At MCSystems we offer a comprehensive solution for asset management in the agro-industrial field. The average cost of a sensor at MCSystems ranges between €300 and €700. You can ask us your question so that we can study your project.
If you have a farm or any stock warehouse and you want to get your Digital Kit without worries, you can contact us and we will help you throughout the process of choosing your best digital solution and request help tailored to your needs.
Remember that this subsidy will be awarded on a non-competitive basis (the first will have preference in obtaining the subsidy), therefore, if you are interested, we can move forward to obtain it.
Dichas subvenciones se pueden conseguir mediante un Agente Digitalizador, como nosotros, que prestamos ayuda a la PYMES con una solución fiable y económica para el control de stocks en explotaciones agropecuarias o cualquier depósito con stock, incluso los de combustible.
La bonificación

procedente de los fondos europeos Next Generation

para conseguir la transformación digital debe solicitarse antes de diciembre de 2024 y es de un máximo de 12.000€ con la siguiente financiación:
Hasta 12.000€ dirigida a empresas entre 10 y 49 trabajadores (convocatoria abierta hasta el 15 septiembre o agotar fondos)

Hasta 6.000€ para empresas entre 3 y 9 trabajadores (la convocatoria abrirá a mediados de julio)

Hasta 2.000€ para empresas entre 1 y 2 trabajadores (la convocatoria sale en septiembre-octubre de 2022)
Solicitar una subvención puede ser una tarea tediosa hay que conocer muy bien que documentación te solicitan, cuando presentarla, cumplir los requisitos, etc. Es por estos motivos que es mejor ir de la mano de una empresa que pueda ayudarte a conseguirlo como MCSystems.
MCSystems control de stocks
Nuestra especialidad es el diseño y fabricación de sensores para controlar y monitorización de existencias en silos y depósitos, desarrollando distintos tipos de sensores según las necesidades del cliente. No obstante, nuestra experiencia en distintos sectores nos ha permitido desarrollar una amplia gama de soluciones IoT como las siguientes:
Sector Agro-Industrial
Sensor de nivel para sólidos Silometric
Sensor de nivel para líquidos Fluidmetric
Sensor de temperatura pórtatil Securdetect
Sector Logístico
Sistema control temperatura Buheat para bujes de los camiones

Alarma anti robo para depósitos de Gasoil "Safety Fuel"
Y finalmente, nuestra plataforma web Digitplan desarrollada para la visualización de datos, es una herramienta muy potente e intuitiva para optimizar y facilitar tanto la gestión de tus explotaciones como el control y trazabilidad de tus activos.
Nuestras soluciones son requeridas por Granjeros para su gestión del pienso, empresas fabricantes que quieran mejorar el control de inventario de sus materias primas, almacenes abiertos de grano y cereales donde el aumento de temperatura pueda suponer un grave problema y operadores de transporte con un sistema de control preventivo ante el posible aumento de temperatura de sus bujes y ejes de sus vehículos.
En MCSystems ofrecemos una solución integral para la gestión de activos en el ámbito agro-industrial. El coste medio de un sensor en MCSystems oscila entre los 300 y 700€. Puedes realízanos tu consulta para que estudiemos tu proyecto.
Si tienes una explotación agropecuaria o cualquier depósito de stock y quieres conseguir tu Kit Digital sin preocupaciones, puedes ponerte en contacto con nosotros y te ayudamos en todo el proceso de elección de tu mejor solución digital y solicitar la ayuda a tu medida.
Recuerda que dicha subvención se adjudicará en régimen de concurrencia no competitiva (los primeros tendrán preferencia en la obtención de la subvención), por ello, si te interesa podemos avanzar para obtenerla.